Why you should use Maltron one-handed keyboards
Upper limb disability in Australia
There are many reasons why an individual may have limited or no use of one hand.  The main causes are: diabetes, vascular disease, trauma (e.g. an industrial accident), congenital conditions affecting the musculo-skeletal or nervous system and infections (such as sepsis and osteomyelitis).  It is estimated that there are at least 35,000 persons with amputations within Australia, which is likely to be an underestimate given that it is based on data gathered by the Australian Bureau of Statistics in 1993.  Statistics from the US show that the most common amputation is partial hand (one or more fingers) and the next most common is loss of an arm.
Computers and upper limb disability
Computer use is now an integral aspect of the vast majority of jobs in all fields.  People working in a diverse range of jobs from secretarial to aeronautics are likely to spend long periods of time typing on computer keyboards.  In addition, computer proficiency is a requirement of all learning environments, from primary school onwards.
The standard QWERTY keyboard tends to be difficult to use with one hand, and research shows that it may lead to further injury of the affected or other hand as a result of flexion, extension and deviations in joints and muscle strain from holding hands and fingers in unnatural positions.  Hand injuries account for 33% of all injuries at work, 33% of chronic injuries, 25% of lost working time and 20% of permanent disability.
Advantages of the Maltron keyboard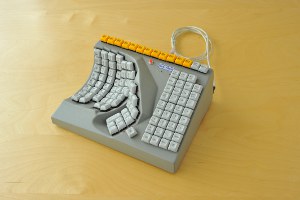 Maltron keyboards provide an ergonomically correct alternative to help people with upper limb disabilities and amputations to participate fully in the workforce and other settings such as schools and universities by making the computer keyboard more accessible.
Key features of Maltron single handed keyboards are:
The shape and letter layout have been planned to take into account the number of keys that can be accessed quickly and comfortably
They have a push-on, push-off option for Shift, Control and Alt functions
The most commonly used letters are the easiest to reach to reduce awkward finger movements
The switchable dual layout feature has been developed to give an alternative number entry option
Screen and paper-based self paced training manuals facilitate quick, easy learning and touch typing
Typing speeds of 85 words per minute have been demonstrated by operators using Maltron single-handed keyboards.
If you're not convinced, a range of reviews from people who've used the Maltron single-handed keyboard can be found here and here.
Contact us to order your Maltron keyboard today!