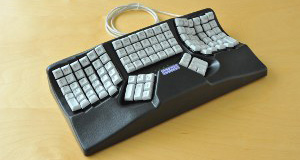 The Design of Everyday Things (formerly entitled The Psychology of Everyday Things) by Donald Norman discusses the issue of design and functionality of everyday objects and the frustration – and worse – that can arise when objects are ill-designed and not user-friendly.
From taps and doors to computers and aeroplane cockpits, Norman (2002) provides examples of poorly designed objects and the impact on the user; ranging from mere annoyance to tragic injury and even death.
One of the products he discusses is the QWERTY (also known as Sholes) keyboard, the standard keyboard used with most computers. He outlines the deficiencies of the keyboard and its inappropriateness in the modern world, requiring faster keying speeds and designs that are comfortable for the hands and wrists.