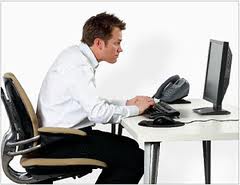 Work related strain injuries
Strain injuries at work, the most common being Repetitive Strain Injury are caused by excessive force being imposed on muscles, tendons, joints and the nervous system by some working practices (such as typing). When the strain is of short duration accompanied by adequate rest it generally does not cause significant damage. However, with work practices being increasingly sedentary and with the overwhelming majority of jobs requiring long periods of keyboard use, this can result in very frequent exertions of forced static postures which can result in a loss of capacity in the affected limbs.
The three main factors that can lead to strain injuries include:
FORCE – the application of excessive manual force
FREQUENCY AND DURATION OF MOVEMENT – including rates of working which are intense and repetitive
AWKWARD OR RIGID POSTURE – particularly of hand, wrist, arm or shoulder
Custom designed Maltron keyboards are the most versatile keyboards in the world, catering to the needs of the everyday user wanting to minimise the risk of Repetitive Strain Injury, to people who have minimal or no use of their upper limbs.
The conditions the Maltron keyboard caters for include:
Strokes
Amputations
Paralysis
Tendonitis
Repetitive Strain Injury
Work Related Upper Limb Disorders
What is RSI?
Repetitive Strain Injury (RSI) (also known as repetitive stress injury, occupational overuse syndrome and regional musculoskeletal disorder) is an injury of the musculoskeletal and nervous system caused by prolonged repetitive hand movements or sustained or awkward positions, such as those involved in computer, mouse and keyboard use.